Find out about the Leonardo family
As one can expect from Leonardo Yachts no compromises on beauty and elegance were made. The exterior truly captures the style and elegance of a Spirit of Tradition yacht. The 38 foot sailboat has a timeless appeal with elegant classic lines combined with ultra-modern deck hardware and a modern underwater body. The modern classic boat is designed as a true daysailer; the cockpit comfortably seats six people so family or friends can come along to enjoy a day on the water in style. At the same time the Eagle 38 can also easily be sailed single handed.
Price Eagle 38 in standard configuration ready to sail € 187.500,- excl. VAT.

1,25 meters or 1,85 meters (4' 1" or 6' 1")
The mahogany/stainless steel steering wheel guarantees excellent control and manoeuvrability while sailing or using the inboard Volvo sail-drive. The winches are positioned within easy reach of the helmsman to make single handed sailing possible. Combined with the large teak benches and comfortable cushions, you can bring up to eight non-experienced sailing friends or family. The phenomenal stability and a self-draining cockpit of this 44 foot sailboat will make everyone feel safe.
Price Eagle 44 in standard configuration ready to sail € 267.500,- excl. VAT

1,35 meters (4'5") or 2,00 meters (6'7")
With halyards and the jib sheets running below the all teak deck, the Eagle 54 has an ultra-sleek deck layout. For easy handling, the jib winches are positioned within reach of the helmsman. Just forward of the jib winches, the two halyard winches, which double as gennaker sheet winches. The halyard's tails neatly disappear in the cockpit coaming. A captive winch mounted below deck, allows the mainsheet to be trimmed with the push of a button. Also the powered headsail furler is mounted below deck. The standard rigging features a carbon mast with an in-boom furling mainsail. The boomvang and backstay are easily controlled from the helm on the hydraulic panel.
Price Eagle 54 in standard configuration ready to sail € 855.000,- excl. VAT.

2,80 meters (9' 2") or 2,20 meters (7' 3")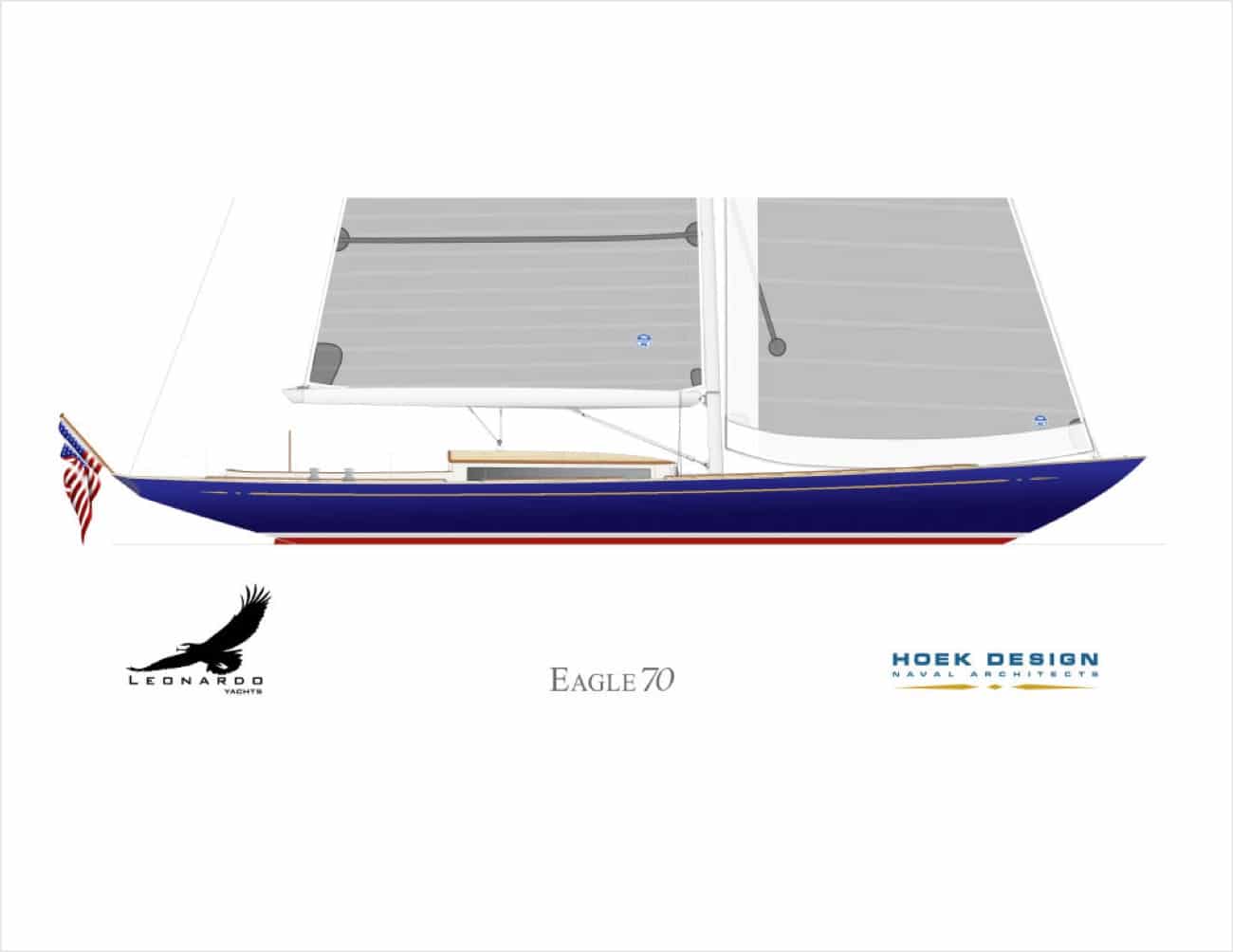 Timeless classic beauty meets modern technology. Following its predecessor, the Eagle 54, André Hoek designed this classic 70 foot yacht with a modern keel and rudder configuration. The lines of the Eagle 70 show she is a close family to the 38 and 54 but the new 70 has a clear difference in that she is not only a daysailor but she can also be used as an ocean-going yacht. She shares the retro classic look, a classic sheer with flush deck, low cabin with glass wraparound windows and a large aft cockpit.
Price Eagle 70 in standard configuration ready to sail € 2.300.000,- excl. VAT.